Electrostatic discharge is an expensive and dangerous problem.
Typically caused by simple friction between two surfaces, if not treated it can build up to a sudden and large discharge of power that can damage expensive equipment, wipe out electronically stored data, or ignite flammable and combustible materials.
In an ever-more technical world, with microchips placed in everyday objects, the need to resolve the problem of electrostatic discharge (ESD) is growing.
Fortunately, the birth of the nanotechnology industry has provided chemical engineers with the tools they need to cure the problem.
1 Graphene Nanotubes Used to Create Non-Marking Anti-Static Tyres
Modern vehicles are filled with plenty of electronics and computers, and as their tyres are in constant and ever-changing contact with the road surface the build-up of ESD is a permanent risk.
Knowing this, manufacturers use a variety of raw materials in tyres to limit static charge, but it can still be an issue in some markets.
Thanks to the application of graphene nanotubes, the challenge of producing non-marking anti-static solid tires has been resolved.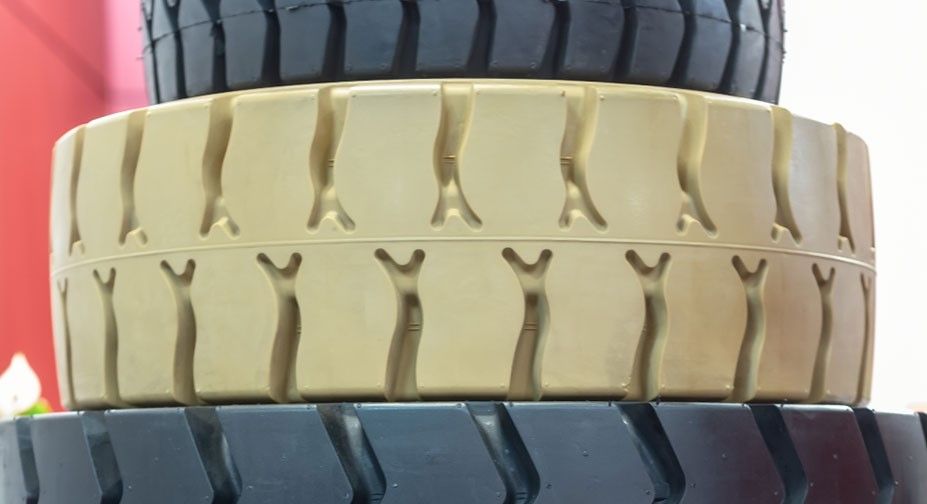 As a report in the journal Industry Today explains, the breakthrough, "… ensures the safe operation of industrial trucks, forklifts and trolleys by avoiding accumulation of static electricity. Graphene nanotubes are the only cost-effective solution to comply with EN and ISO Electrostatic discharge (ESD) standards without impacting the durability of tires."
2 Carbon Nanomaterials Give MMA Flooring Electrostatic Discharge Properties
As well as safeguarding tyres, nanotechnology has also been incorporated into floors.
Developed by NANO CHEMI GROUP, the product NANO AF MMA-48 is a methyl methacrylate (MMA) resin-based concentrate containing 0,4 wt.% of carbon nanomaterials for use in MMA flooring systems.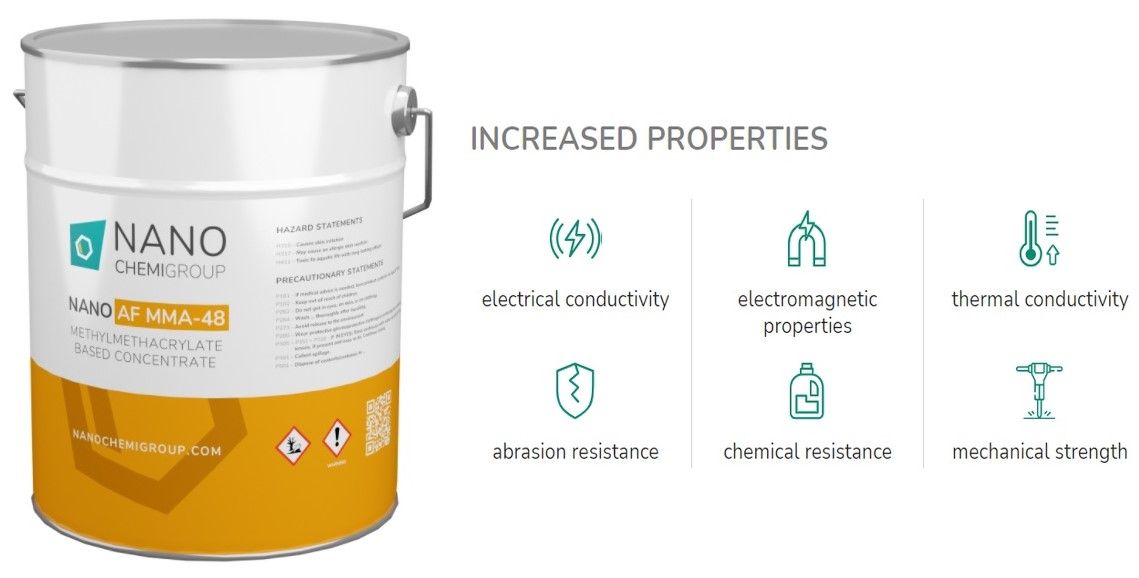 By using such a low weighting of nanomaterials in the polymer the flooring does not lose any of its original features. Yet the polymer still gains additional properties, such as quick drying, thermal conductivity, crack and scratch resistance, and increased durability. All while limiting ESD.
---
To learn more about this topic, read: Nanoadditives Give MMA Flooring Electrostatic Discharge Properties or visit NANO CHEMI GROUP.
---
3 Nanomaterials in Polymer Composites for Aerospace
The aerospace industry is always at the cutting-edge of material R&D and is applying nanotechnology in a variety of polymer composites.
While nanomaterials provide many obvious properties for modern aircraft, such as added strength and flexibility with low weight, their ability to add electroconductivity to materials is also invaluable.
As a plane or helicopter flies through the air, especially at higher altitudes, it can experience a build-up of static electricity caused by contact with dust, hail, volcanic ash, and other air particles. This is a serious threat to safety, as aircraft require numerous computers and vital electronic circuits to be able to fly.
This risk is now being lowered, as today's advanced nanomaterials are not only limiting ESD but can even work as built-in lightning strike protection and electromagnetic shielding.
4 Nanofilled Coatings with Antistatic Properties
Apart from the aerospace industry, it is estimated that 35% of microchip damage related incidents are caused by improper dissipation of ESD generated energy.
To help combat this issue a wide range of nanofilled coatings have been created. Their antistatic performance can be essential in preventing dust and dirt attraction to sensitive equipment, as well as having a beneficial effect on electrical field distribution.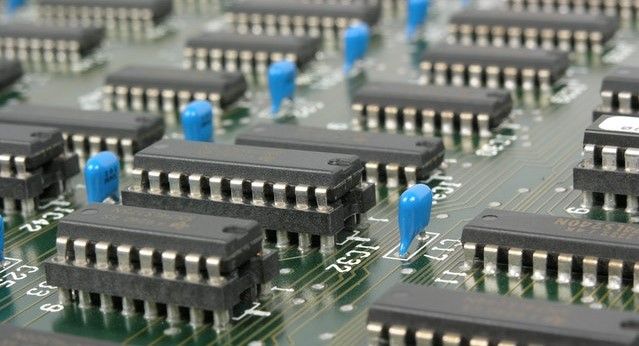 These properties are in great demand with manufacturers of smaller electronic circuits, although nanocoatings with ESD properties are also used in high voltage insulating systems.
5 Carbon Nanomaterials give ESD Properties to Polycarbonate
Polycarbonate screens for use in hospitals, light industrial facilities, spaces with electronic data storage devices, or shops containing expensive electrical equipment may require materials which provide anti-static properties.
The application of nanomaterials into the polymer mix can provide thermal conductivity, boosted mechanical strength, ultra-violet protection, electro-magnetic properties, as well as much sought-after electro-conductivity.
One product that has recently entered the polycarbonate granulate market is called NANO AP PCG-23.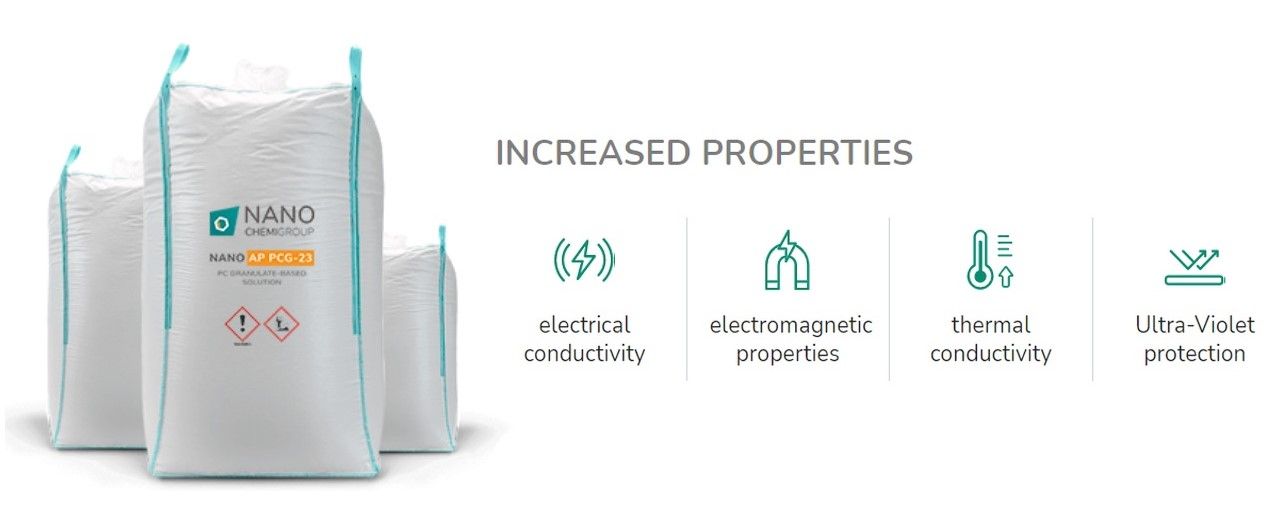 Developed through a cooperation between nanomaterial researchers and the raw material suppliers at NANO CHEMI GROUP, the modified PC granulate can help prevent electrostatic discharge, despite containing as little as 0.12 – 0.24 wt.% of carbon nanomaterials.
While many still think of nanotechnology as a solution to the problems of the future. Today, nanomaterial-based raw materials are commercially available and are making a growing impact in various industries.
The obvious benefits they provide and the savings they can make for producers of plastic granulate, PVC, rubbers, polycarbonates, concrete, and other composites materials, means that the use of nanomaterials is likely to become as common as using metal or plastic.
This list of five nano-products, is just a small sample of the many thousands of ways that nanomaterials are impacting manufacturing. Simple proof, if needed, that nanomaterials are changing the face of raw material supply.
---
Photo credit: Industrytoday, NANO CHEMI GROUP, Andrey Lanhi from Pixabay, Stephen fluck, pexels, pexels, & NANO CHEMI GROUP